About Jack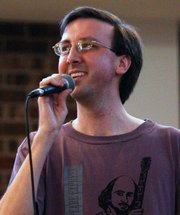 Jack is a contra and square dance caller and dancer based in Durham, NC.  He recently celebrated his 25th year of contra dancing (having been dragged off to a dance the summer after his freshman year in High School).
While in Knoxville, TN he got interested in calling, has been calling on a regular basis since around 2002.  Since then, he has called in 22  different states and has become known for his fast walkthroughs, clear calling, and for his ability to match dances to the ability of the crowd.
When he's not calling, he also works locally to help developing callers, including organizing a local Callers Collective as a forum for workshops, discussions and dancing.